Can You Up How Much Water Is In Your Diet?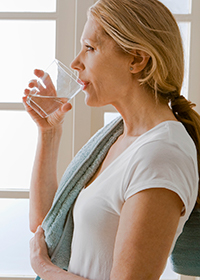 Water is one of the most amazing substances on the planet. You can go for weeks without eating, but you can only go a few days without water. Water is essential to your oral health. It helps to wash away food particles that become stuck to your teeth and gums.

Water also helps with saliva production. If you don't think you are getting enough water, there are some ways you can add more water to your diet. Not sure how to do that? We have some suggestions.


Ways to Add Water to Your Diet
First, you can add water to your diet by changing the flavor of the water. Drinking glass after glass of water every day is tedious. Drinking water that has been infused with something (natural of course) will help break the monotony. You can put fresh fruit such as grapefruit and strawberries into your water.

You could also put veggies and herbs in your water, such as cucumber, ginger, basil, or mint. There are lots of suggestions on Pinterest for flavor-infused (naturally) water, if you get stuck.

Another way to get more water into your diet is to put in times during the day when you can get a glass in, such as immediately after exercise, a bathroom break, or before every meal. You could also use an app to track how much water you're drinking every day. Apps can even be used to set daily reminders to drink more water. There are even water bottles that record each ounce of water you drink and send the information to your cell phone, so you can keep track that way.

You can also use a marked water bottle to keep track of your ounces, so that you'll know how much water you have had in one day. One more sneaky way to get more water in is to dilute any sweet drinks you decide to drink, such as tea or juice with water.

If you have questions about how much water you need to drink, or your oral health in general, we would love to talk to you. Why not give us a call?