The Link Between Oral Health and Heart Disease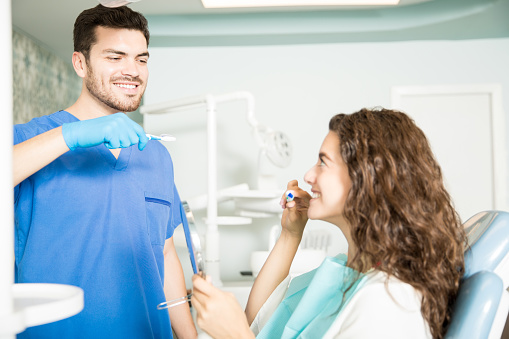 Every parent wants to do all that is possible to keep their kids happy and healthy. Oral health is one of the most crucial facets of general health. While studies have also shown a link between heart disease and dental health, poor oral hygiene can also lead to tooth decay and gum disease.


Establish Good Oral Hygiene Habits Early On:

Starting young and establishing the right oral hygiene practices in childhood is essential for maintaining good dental health. Children should be taught to brush and floss their teeth twice a day using a soft-bristled toothbrush and fluoride toothpaste, as well as to routinely go to the dentist. Plaque and bacteria accumulation in the mouth brought on by poor dental care can aggravate gum disease and damage teeth.


The Link Between Oral Health and Heart Disease:

Did you know that the same germs that cause gum disease can also enter the bloodstream and raise the risk of heart disease? According to studies, those with gum disease have a twofold increased risk of developing heart disease compared to those with healthy gums. In addition to creating plaque in the arteries, the bacteria can enter the bloodstream, travel to the heart, and inflame the heart tissue.


Encourage Healthy Eating Habits:

Promoting healthy eating habits is essential for both the prevention of heart disease and the maintenance of good dental health. Eating a balanced diet that is high in vitamins and minerals but low in sugar will help you keep healthy teeth and gums. Sugar-rich diets can cause gum disease and tooth decay, which raise the risk of heart disease.


Maintaining Good Oral Hygiene Habits:

Early and lifelong adoption of proper dental hygiene practices is crucial for lowering the risk of heart disease. That means daily flossing, brushing twice a day, and frequent visits to the dentist. The risk of gum disease and heart disease can be decreased by eating a nutritious diet and avoiding sugary foods and beverages.

In conclusion, maintaining good oral hygiene can reduce the incidence of gum disease and tooth decay. Oral health is a crucial component of overall health. Yet, the connection between dental and cardiovascular health emphasizes the importance of maintaining proper oral hygiene. Parents can promote their children's general health and wellness by teaching them appropriate dental hygiene habits at an early age and modeling them for them throughout their life.